Andrea Frump, Ph.D.
Assistant Professor of Medicine
Indiana University School of Medicine
Division of Pulmonary, Critical Care, Sleep, and Occupational Medicine
Seminar Information
Seminar Date
May 12, 2023 - 2:00 PM
Location
The FUNG Auditorium - PFBH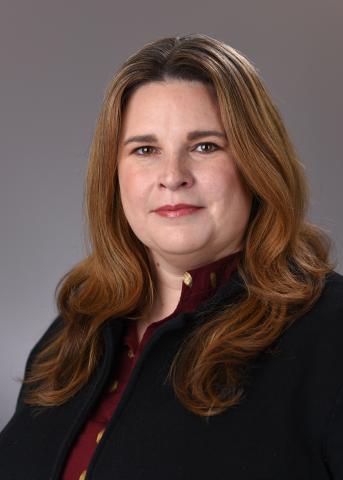 ---
Abstract
Pulmonary arterial hypertension (PAH) is a progressive cardiopulmonary disease that, if left untreated, leads to pulmonary vascular remodeling, right ventricular (RV) failure, and death. Women are more susceptible to the development of PAH; however, once they have disease, women with PAH exhibit better right ventricular (RV) function and survival than men. The underlying mechanisms driving this sex difference are unknown. We hypothesized that 17β-estradiol (E2), through estrogen receptor alpha (ERα), attenuates PAH-induced RV failure (RVF) by up-regulating the pro-contractile and pro-survival peptide apelin. We found that ERα and apelin expression were decreased in RV homogenates from PAH patients with RV failure and from rats with maladaptive (but not adaptive) RV remodeling in sugen/hypoxia PH, monocrotaline PH, and pulmonary artery banding RV failure. RV cardiomyocyte apelin abundance increased in vivo or in vitro after treatment with E2 or ERα agonist. Studies employing ER-α-null or ER-β-null mice, ER-α loss-of-function mutant rats, or siRNA demonstrated that ER-α is necessary for E2 to upregulate RV apelin. E2 or ER-α agonist rescued monocrotaline pulmonary hypertension and restored RV apelin. We identified what we believe to be a novel cardioprotective E2/ER-α/apelin axis in the RV. Harnessing this axis may lead to novel RV-targeted therapies for PAH patients of either sex.
Speaker Bio
Andrea L Frump, PhD is an Assistant Professor of Medicine at Indiana University School of Medicine in the Division of Pulmonary, Critical Care, Sleep and Occupational Medicine. Dr. Frump received her undergraduate degree in Biology and a Master of Science degree in Molecular and Cellular Biology from the University of South Carolina. She completed her PhD at Vanderbilt University in Cell and Developmental Biology in 2014. Her research interests lie in the discovery of molecular pathways underlying pulmonary vascular dysfunction and RV failure, with the end goal of using these mechanisms to develop novel therapies for pulmonary hypertension patients with RV failure, with a particular focus on understanding the molecular biology underlying a survival difference between men and women with pulmonary hypertension. Women are more likely to develop pulmonary hypertension, but once they have the disease, they survive longer than men. She joined the faculty at Indiana University in the Division of Pulmonary, Critical Care, Occupational and Sleep Medicine first as a research assistant professor in 2019 and then as an assistant professor in July 2020. Her work has been supported by foundation, industry, and NIH funding.